Snowboard school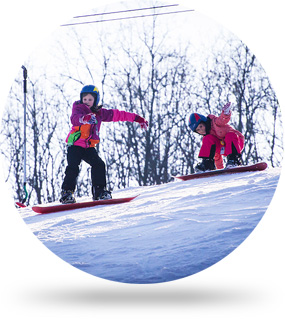 The school was set up in 2003. We mainly operate in South Moravia — at the southernmost slope of Central Europe — Němčičky near Břeclav. Our school boasts instructors with snowboarding instructor certification. They have been having fun on the board for years and what is most important – they can teach anyone who is at least a little bit interested. We teach complete beginners as well as advanced learners of nearly any age – so why not you?
When are our sessions held?
Our lesson usually lasts 50 minutes. Training includes both individual and group sessions.

Individual — one session includes 2 lessons given to one to two persons, on weekdays: anytime from 2 p.m. to 8 p.m., as agreed individually in advance (personally, by phone or electronically).
Group — one session includes 2 lessons, on Sundays from 9 a.m. to 11 a.m. in Němčičky, for three or more people, no need to book in advance.

The training season usually starts around Christmas.

A few tips for beginners
The board cannot just be tried – you need to learn at least the basics, i.e. the drift turn, to get the feel of the ride a little bit. It is certainly easier to learn if you are determined to take up snowboarding. It is worth hiring an instructor, especially at the beginning. You can learn it yourself but it takes a longer time and hurts more. You might also pick up a few bad habits that are hard to get rid of later on. There is no need to hurry to purchase a board. We recommend that you consult it first, either with your snowboarder friend or directly in a snowboard shop. Do not buy a board the same way you put bread into a shopping basket in a magnificent supermarket where there is nobody to give you advice.

Try to get as much information about SNB as possible – it will come in handy.
Price list
Individual - 1 session (2 lessons) ... 1 person = CZK 600, 2 persons = CZK 900
Group - 1 session (2 lessons) ... CZK 400 per person
Němčičky
The municipality of Němčičky is situated in Břeclav District, 10 km from the D2 motorway slip road in Hustopeče, in the rugged terrain of the southeast projection of the Ždánice Forest. The lowest point within the municipality estates is 177 meters above sea level, while the highest one is 316 meters above sea level. There are roads connecting Němčičky with the nearby towns of Velké Pavlovice, Horní Bojanovice, Boleradice and Bořetice.

For more information, please go to www.sportnemcicky.cz. The commencement of our lessons depends on the current snow conditions.